Caspian Grill is a family-owned Mediterranean restaurant business located in Madison, Wisconsin. With 2 locations in Madison, Caspian Grill has earned a stellar reputation for serving great food in an inviting environment.
Caspian Grill signed up for Preventative Maintenance contracts (PM) with a local mechanical contractor to maintain their HVAC and refrigeration units (Walk-in coolers, freezers). Despite spending money on PM contracts, equipment failed often and the contractor charged emergency repair fees to fix broken down equipment.
In many cases, Caspian Grill found that HVAC and refrigeration equipment would fail days after the contractor performed PM services. Despite paying emergency repair fees, the contractor wouldn't perform immediate repairs to fix failures.
The contractor often took multiple visits to resolve the same issue, resulting in higher repair bills and even more downtime.
After years of struggling with unexpected downtime and high repair bills, Caspian Grill decided to sign with Monaire at their Gammon Road location.
At $0 cost to Caspian Grill, Monaire installed sensors and smart thermostats to track the status of HVAC and refrigeration equipment at Caspian Grill. Monaire's AI algorithms started analyzing sensor data and began looking for potential issues.
Within a few weeks, Monaire helped Caspian Grill save $1,000's in food waste. Monaire's sensors and AI algorithms, discovered an issue with the freezer's thermostat.The thermostat was reporting 37oF despite the actual temperature being 45oF. After analyzing this issue
Monaire's sensors caught the discrepancy and Monaire's algorithms quickly identified that the unit's thermostat needed to be replaced. Within hours, Monaire's contractors replaced the thermostat and got the unit back to optimal operation - saving $1000's in food waste. As an added bonus, Caspian Grill paid $0 in emergency repair fees, despite the issue being resolved almost immediately.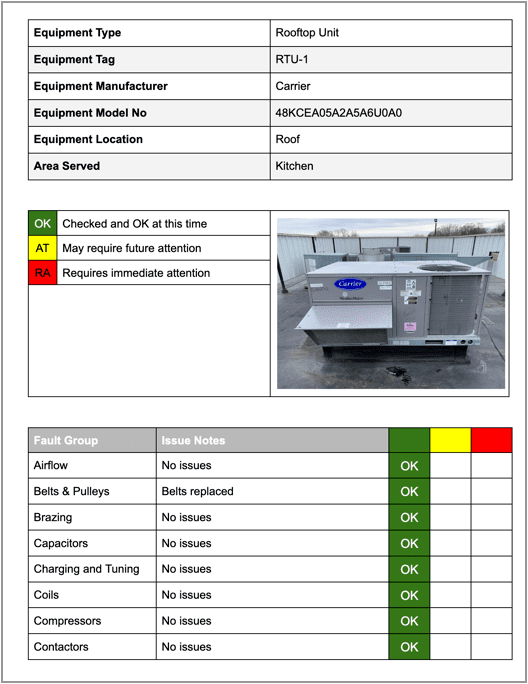 In the past, what happened during preventative maintenance visits were a mystery. Contractors wouldn't provide a summary of issues they found nor would they share information on what was inspected. Due the lack of transparency, Caspian Grill found it hard to trust their mechanical contractor and often questioned if the repairs the contractor was suggesting were appropriate. In many cases despite performing the repairs suggested by the contractor, Caspian Grill encountered equipment failures and downtime often within days of performing recommended repairs.
With Monaire's preventative maintenance visits, technicians perform a 100-point inspection on every HVAC and Refrigeration unit. After the visit, Monaire provides Caspian Grill with a report of what was inspected, what issues were found along with a clear recommendation on what should be fixed immediately and what can be deferred - eliminating guess work and maximizing return on repairs investment.
In addition to scheduled preventative maintenance visits, Monaire's sensors and AI-powered fault detection algorithms constantly monitor Caspian Grills HVAC and Refrigeration equipment. Monaire detects issues early and dispatches technicians to fix them. Technicians arrive with prepared with insights on the issue and ways to resolve it quickly and efficiently.
Monaire's preventative maintenance visits coupled with AI-powered fault technology has has helped Caspian Grill to reduce repair costs by 30% and avoid downtime.
Monaire's AI-powered algorithms continuously check for in-efficiencies that might lead to higher energy use. Every hour hundreds of sensor data points are analyzed and compared against ideal operating parameters. If any deviances are detected, Monaire's algorithms immediately tried to rectify the problem by making changes to the system (e.g. adjust thermostat setpoints, schedules etc.) or by sending a technician to fix the issue that was reducing efficiency (e.g. low refrigerant charge).
Within minutes of installation, Monaire's algorithms baselined Caspian Grill's systems and compared it against optimal operating parameters. Then, Monaire's algorithms quickly tweaked thermostat settings and Monaire's technicians fixed efficiency issues to bring Caspian Grill's systems back to ideal operating efficiencies. Thanks to Monaire's constant optimizations Caspian Grill has seen a 12% reduction in utility bills.
After experiencing less stress and saving money at their first location, Caspian Grill has signed on with Monaire for their second location in Madison.